Chucky Cheese and Pony Rides Does Not Constitute an Emergency*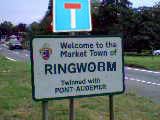 Current mood: milky
While I am preparing for another boozy pub night I will post my most amazing discoveries this week:
1. the phrase "I've come to fix the fridge" is not always followed by thwaker-thwaking guitars and boobies, especially at work (actually it was me that said it, to myself, clutching a fuse).
2. Pirates are teeth-scrapingly cool, specifically Johnny, yay johnny! "'ello beastie!"
3. It's still hot. Actually, I already knew this, BUT THAT DIDN'T STOP A MILLION PEOPLE PRESENTING ME WITH THIS STARTLING INFORMATION OVER AND OVER AGAIN!
4. Taramasalata is almost as interesting as CHEESE.
*subject title courtesy of Judge Judy
Currently listening :
Black Ivory Soul
By Angelique Kidjo